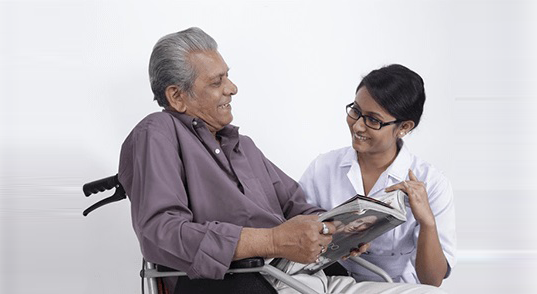 real parents
One of our parents Arun Kr. Patra & Namita Patra
who have been trusting us for all their needs for years
Hospital
We have contacts with some great hospitals.
We can arrange to admit your parents there, if needed.
Errands
We can take care of many errands including
paying bills, shopping even take them to a movie
doctor's visit
Depend on us to take your parents to  doctor's visits,
get the medicines etc. and also do follow up with them
Give Compnay
We can read books/magazines to your parents. Listen to them.
That is what people at old age wants most. Someone to talk to.
If you are a compassionate individual who would like to join our network of associates , please send us your information here and we will get in touch with you soon.
This is the time your parents need even more help.
We follow all the safety protocols – masks, gloves, hand-sanitizers and social distancing as advised by national and international healthcare agencies.
We will take utmost care to help your parents and work with their comfort levels.
Watch this short video to know how we are helping parents of many NRIs since 2008. Listen to what our member parents say.
About Parental Care India
Being an NRI myself, I know firsthand how it feels to have my parents go through the difficulties of dealing with the urban jungle that Indian metro cities have become. I see the fear in their eyes every time I meet them personally. They have lived all their lives working hard and providing the very best to us the children. It's painful to see that they are imprisoned in their own houses because there is no reliable service provider who can take care of the logistical details .
Our company will do exactly that. Let us be the helping hand not for a day or a month, but throughout the year.
As your parents struggle with getting through their daily routines, it impacts their quality of life. It is also a source of your major worries. Let us help you with some of these worries. We have built our organization since 2008 on trust and accountability.
We take pride in providing personal care and attention to all of our customers. Please read what other people have said about us.